Stealth Pro is out now in Sweden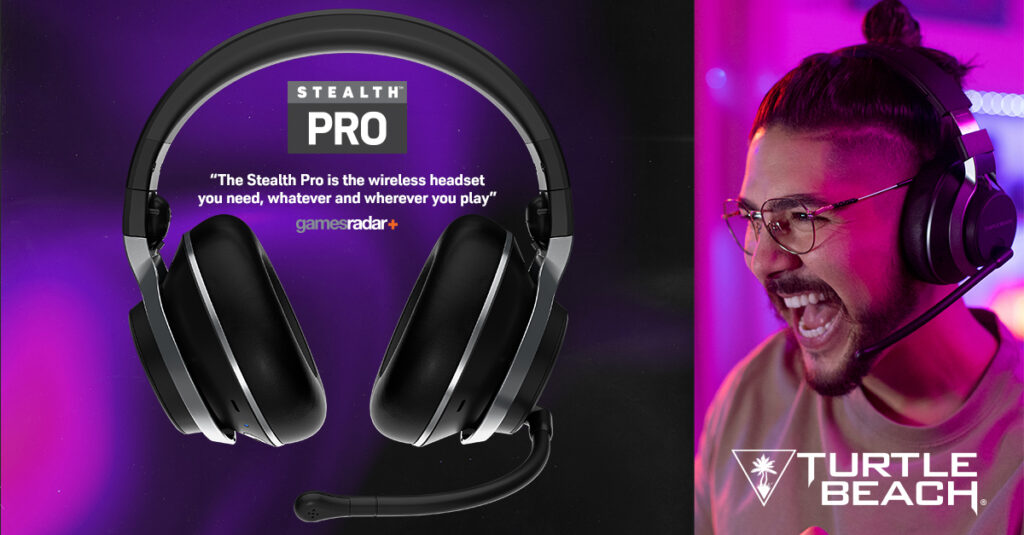 Now Available Globally, Turtle Beach's Stealth Pro Delivers the Ultimate in Audio Immersion with Large, Hand-Matched 50mm Nanoclear Drivers that Produce an Expansive Soundstage, and Best-in-Class Active Noise-Cancellation
Leading gaming accessory maker Turtle Beach Corporation (Nasdaq: HEAR) has announced its new flagship wireless multiplatform gaming headset – the Turtle Beach® Stealth™ Pro – is now available globally. The coronation of the new king of gaming headsets has begun, with critical acclaim already mounting for the Stealth Pro's top-rated audio quality, best-in-class active noise-cancellation, and wealth of ultra-premium features for gaming on Xbox, PlayStation, Windows PCs, Mac, Nintendo Switch, and mobile devices.
Designed for Xbox and PlayStation versions of Stealth Pro are available at www.turtlebeach.com and participating retailers in Sweden for 3.999,00 SEK MSRP.
"Stealth Pro has been crowned the new king of ultra-premium gaming headsets. It delivers the pinnacle gaming audio experience, with sound quality, noise-cancellation, build quality, and comfort that are simply unmatched," said Juergen Stark, Chairman and CEO, Turtle Beach Corporation. "Turtle Beach has been the market leader in gaming audio for the past 13 years based on the high-quality sound and game-winning features we provide at every price point. With Stealth Pro, we've brought that expertise and leadership to bear to deliver a superior ultra-premium gaming headset. Our signature 50mm Nanoclear™ drivers are larger and more powerful for better sound; the Stealth Pro's adjustable active noise-cancellation eliminates more external noise than the competition; and our TruSpeak™ boom mic reduces more background noise, so your voice comes through clearly."
With 56% more surface area compared to 40mm drivers, not only are the Stealth Pro's signature 50mm Nanoclear™ drivers larger and more powerful to create more bass and a wider soundstage, but they are also hand-matched to eliminate subtle differences between left and right speakers. The Stealth Pro's optimized ear cup cavities and audio customization options via the Turtle Beach Audio Hubapp combine to produce a truly detailed soundstage and captivating surround sound, whether using Windows Sonic for Xbox and PC, Sony 3D Audio for PS5, Dolby Atmos, or DTS Headphone:X.
Stealth Pro also features versatile active noise-cancellation, adjustable from full noise-transparency where you can still hear ambient background noise, all the way to 25dB noise reduction to block out most distractions and stay focused. The Stealth Pro's removableTruSpeak™ boom mic also reduces background noise, plus, the boom mic and dual built-in mics both utilize Turtle Beach's exclusive S.M.A.R.T. (Sonic Measurement Audio Reduction Tuning) technology which is designed to further minimize background noise and only let your voice through.
Premium leatherette and memory foam cushions with Turtle Beach's patented ProSpecs™ glasses-friendly technology provide added comfort, while a metal-reinforced headband and zinc alloy frame ensure the Stealth Pro is built to last. Additional features like Dual-Wireless connectivity, Variable Mic Monitoring, Superhuman Hearing®, audio presets, and a variety of customization controls are available via the Turtle Beach Audio Hub app which is available for Windows PC and Mac, and compatible iOS and Android mobile devices.
For the full list of Stealth Pro features designed to deliver an exceptional audio experience, and for more information on the latest Turtle Beach products and accessories, visit www.turtlebeach.com and be sure to follow Turtle Beach on TikTok, Twitter, Instagram,and Facebook.
About Post Author