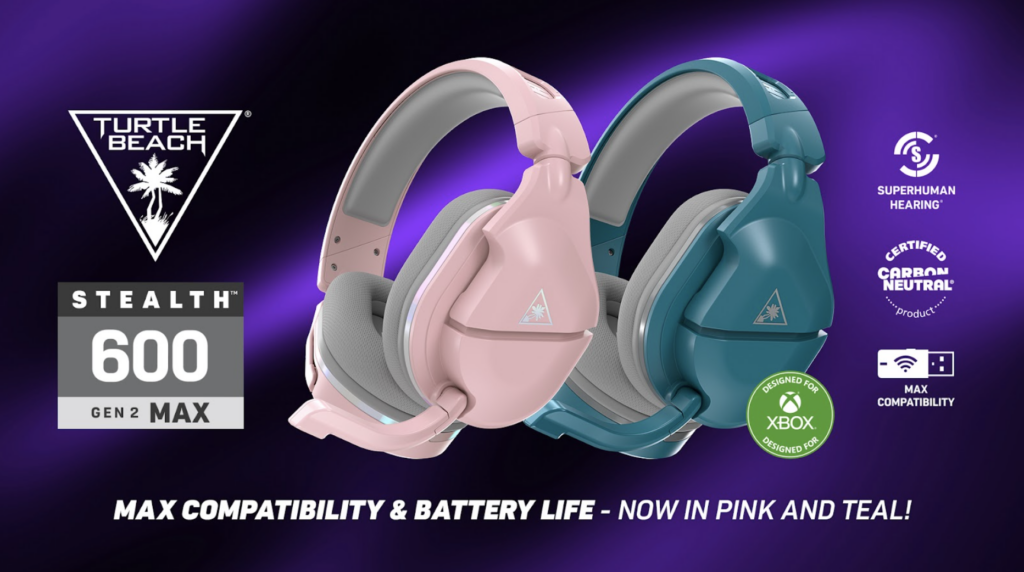 Leading gaming accessories maker Turtle Beach Corporation (NASDAQ: HEAR) has announced two new colorways, Teal and Pink, are now available for its Designed for Xbox Stealth 600 Gen 2 MAX wireless gaming headset. The new Stealth 600 Gen 2 MAX Teal and Pink colorways are also Turtle Beach's first certified CarbonNeutral® products, with emissions reduced and offset in line with The CarbonNeutral Protocol, marking an important milestone in the Company's ongoing sustainability efforts. The Stealth 600 Gen 2 MAX upped the series' already impressive offering with a massive 48+ hour battery life and multiplatform connectivity with more gaming systems, in addition to the powerful 3D spatial surround sound*, crystal-clear mic performance, and unmatched comfort that's made the Stealth 600 series headsets top-selling products since their debut. The Stealth 600 Gen 2 MAX Teal and Pink join the Black, Midnight Red, and Arctic Camo colorways are available now at www.turtlebeach.com and participating retailers in Sweden.
Since their August 2020 debut, Turtle Beach's Stealth 600 Gen 2 has been the #1 best-selling headset series. "Stealth 600 Gen 2 MAX Teal and Pink not only give gamers more color options – which we know they love, but also the peace of mind knowing one of their most used gaming accessories is carbon neutral," said Juergen Stark, Chairman and CEO, Turtle Beach Corporation. "Stealth 600 Gen 2 MAX Teal and Pink are Turtle Beach's first CarbonNeutral® products, and their launch is another important and significant step forward in our sustainability efforts."
Stark continued, "Last year we transitioned most of our gaming headsets to use sustainably sourced paper trays and packaging materials, and eliminated most plastics from the packaging, including up to 90% reduction in plastic in the packaging for some models. We also reduced overall packaging size on key models, which further reduces paper use and lowers carbon output during transportation. In addition to incorporating sustainability into new and future products, Turtle Beach is also proud to be part of Climate Impact Partners' Million Mangroves program, where we contribute to helping develop new mangrove forests which help combat carbon."
Mangroves are a high-impact, carbon-dense, natural climate solution that also provide important protection in coastal areas, enable fish and water species to thrive, and create valuable timber products which are resistant to rot and insects. Over 35% of Mangroves, named the "wonder tree" due to their ability to store four times more carbon than a rainforest, have already been deforested. Climate Impact Partners, specialist in carbon market solutions for climate action, created the Million Mangroves program to showcase companies' commitment to climate action today and deliver immediate results by financing one of the highest impact climate and blue carbon solutions available.
Turtle Beach's Designed for Xbox Stealth 600 Gen 2 MAX wireless multiplatform gaming headset delivers incredible battery life and high-quality game audio. A monster 48+ hour battery life keeps the headset going for days while a low-latency, lossless connection to your game system is handled by Turtle Beach's proprietary lag-free 2.4GHz wireless USB transmitter. With the simple flip of a switch, players can select their favorite game system and experience immersive, 3D spatial surround sound* through large and powerful 50mm speakers, and crystal-clear chat with the Gen 2's flip-to-mute microphone. Soft, ProSpecs™ glasses-friendly ear cushions offer plush comfort, and easy access controls let players adjust their settings and activate features like Superhuman Hearing™ for a proven competitive advantage.
For more information on the latest Turtle Beach products and accessories, visit www.turtlebeach.com and be sure to follow Turtle Beach on TikTok, Twitter, Instagram, and Facebook.
About Post Author