Xsolla launches Pay Station, the most powerful tool for mobile developers to unlock revenue with customizable and simplified checkout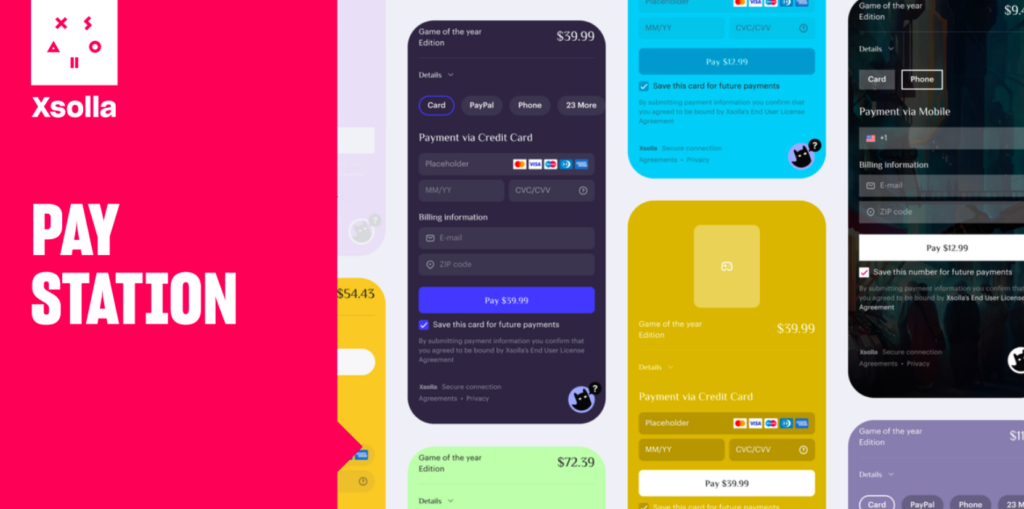 New updates are now available for the Web Shop for Mobile Games, Multi-Platform Publishing, and Payouts Solutions and adds a new funding platform accelerator.
Xsolla, a leading global video game commerce company, announced new solutions and feature releases during their quarterly release week. Launching this week is their powerful flagship commerce offering focused on providing a simple and customizable checkout experience for mobile developers. There are two additional solutions to help developers begin their development journey and successfully manage the growth of their games post-launch. Additionally, Xsolla is creating new features for their mobile-centric solutions to help mobile game developers stay ahead of the continuously evolving industry and generate more sales for their mobile game business.
Xsolla Pay Station
Xsolla's Pay Station introduces significant updates to core functionality and is the only cross-platform branded payment experience for the video game industry. Features include an optimized user flow for an improved purchasing experience, a customizable user interface, streamlined mobile payments, and full support of mobile wallets worldwide.
For more information about Xsolla Pay Station, visit: https://xsolla.pro/prrw12paystation.
Xsolla Web Shop for Mobile Games
Xsolla's popular mobile solution now provides more opportunities for mobile game developers to power up their marketing efforts and engage users directly.
Expanded Bundles
Personalized Storefront
Personalized Promotions
For more information about the Xsolla Web Shop, visit: https://xsolla.pro/prrw12webshop
Xsolla Multi-Platform Publishing
● Expands the marketing funnel by generating new leads at a lower cost per install
● Increases awareness among players who prefer to play PC and web games
● Creates a more personalized and branded experience across each platform targeted for the game's vast audience
● Converts more of the existing gamer base to paying players through preferred payment options not available in the app store
For more information about the Xsolla Multi-platform Publishing solution, visit: https://xsolla.pro/prrw12multiplatform
Xsolla Accelerator
A new funding program, Xsolla Accelerator is now available for independent studios that seek games industry guidance and investment support early in their development cycle. Game developers can apply to educational programs led by industry mentors to help shape their game and content production and get the opportunity to receive a bridge fund to prepare them for the next stage of business valuations and investments. Accepted developers will also receive exclusive opportunities to connect with a global network of publishers and investors.
For more information about the Xsolla Accelerator, visit: https://xsolla.pro/prrw12accelerator
Xsolla Payouts
Whether you are a game developer willing to process payouts to user-generated content creators, an esports platform rewarding its players, or a marketplace, this new solution streamlines mass payouts to hundreds or thousands of individuals. Xsolla Payouts optimizes operating efficiency by managing multiple contracts with users and content creators, holding tax interviews, facilitating tax reporting, and providing the most accurate account balance calculations.
For more information about Xsolla Payouts, visit: https://xsolla.pro/prrw12payouts
About Post Author