Turtle Beach's critically acclaimed VelocityOne Flight Universal Control System becomes gaming's best-selling flight controller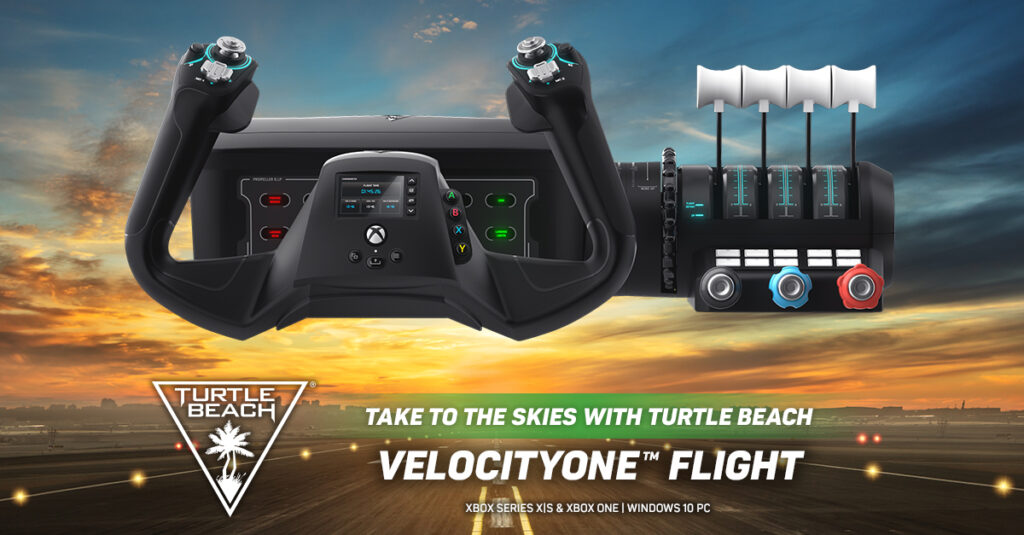 Sales Data from The NPD Group and GfK Show Turtle Beach's VelocityOne Flight Universal Control System was Gaming's Best-Selling Flight Controller in the U.S. and UK in 2022
Leading gaming accessory maker Turtle Beach Corporation (Nasdaq: HEAR) today announced its award-winning Turtle Beach VelocityOne™ Flight Universal Control System was the gaming industry's market share leader for flight controllers in 2022. In data1 provided by The NPD Group, which tracks retail product sales across the gaming industry in the U.S., Turtle Beach's Designed for Xbox VelocityOne Flight was the #1 best-selling flight controller by dollar sales in the U.S. for 2022. Additionally, in the UK, VelocityOne Flight was the best-selling joystick in 2022 by revenue, according to GfK Entertainment data2.
"VelocityOne Flight has impressed the flight sim community since the moment we unveiled it at E3 in 2021 and we are thrilled to see it become the best-selling product in its class in the U.S. and UK in its first full year of sales," said Juergen Stark, Chairman and CEO, Turtle Beach Corporation. "With VelocityOne Flight, Turtle Beach redefined the flight controller category, and we've recently expanded the immersive VelocityOne experience further with the new VelocityOne Rudder and VelocityOne Stand, along with the VelocityOne Flightstick, and each of these new products are following a similar path earning strong praise from the community, plus top review scores and accolades."
VelocityOne Flight debuted at E3 2021 where it received multiple best of show awards. VelocityOne Flight's initial praise developed into top review scores and additional accolades following its November 2021 launch, after becoming one of Turtle Beach's most pre-ordered products at the time. Top flight sim enthusiast publication, PC Pilot, reviewed the VelocityOne Flight controller and gave it a 90/100 review score and their PC Pilot Classic Award, saying, "If you're looking for a more natural method of controlling your aircraft without reaching for the keyboard and mouse, I can highly recommend this VelocityOne Flight Universal Control System." Additionally, popular games industry publication Gaming Trend gave VelocityOne Flight a 95/100 review score, calling the controller "Absolutely game changing," while PC Mag highlighted it as, "the best control system for Xbox Series X|S owners."
In fall 2022, Turtle Beach expanded the brand's VelocityOne product lineup with the introduction of VelocityOne Rudder and VelocityOne Stand – two new universal products that perfectly complement VelocityOne Flight for the ultimate gaming flight simulation setup for Xbox and Windows PCs. PC Pilot gave the VelocityOne Rudder a 95/100 review score plus their Platinum Award, saying, "I've been fortunate enough to try many different pedals over the years, but these are without a doubt the best I've used so far." CoG Connected, another popular games industry publication, also enjoyed using VelocityOne Rudder, calling it, "an impressive piece of hardware."
Turtle Beach also launched the VelocityOne Flightstick last fall, which is a joystick controller that equips gamers with immersive and accurate controls for air and space flight combat games on Xbox and Windows PCs. IGNadded the VelocityOne Flightstick to its Best Xbox Series X|S Accessories 2023 list as The Best Flight Stick for Xbox Series X|S, adding, "it delivers excellent precision and an immersive, realistic flying experience." PC Pilot also awarded the VelocityOne Flightstick a 96/100 review score along with the publication's Platinum Award.
Turtle Beach's VelocityOne products are developed in collaboration with aeronautical engineers and pilots, and by a dedicated Turtle Beach team with over two decades of experience creating many premier flight and racing simulation controllers. VelocityOne Flight, VelocityOne Rudder, VelocityOne Stand, and VelocityOne Flightstick are all currently available at www.turtlebeach.com and participating retailers worldwide.
For more information on the latest Turtle Beach products and accessories, visit www.turtlebeach.com and be sure to follow Turtle Beach on TikTok, Twitter, Instagram, and Facebook.
About Post Author