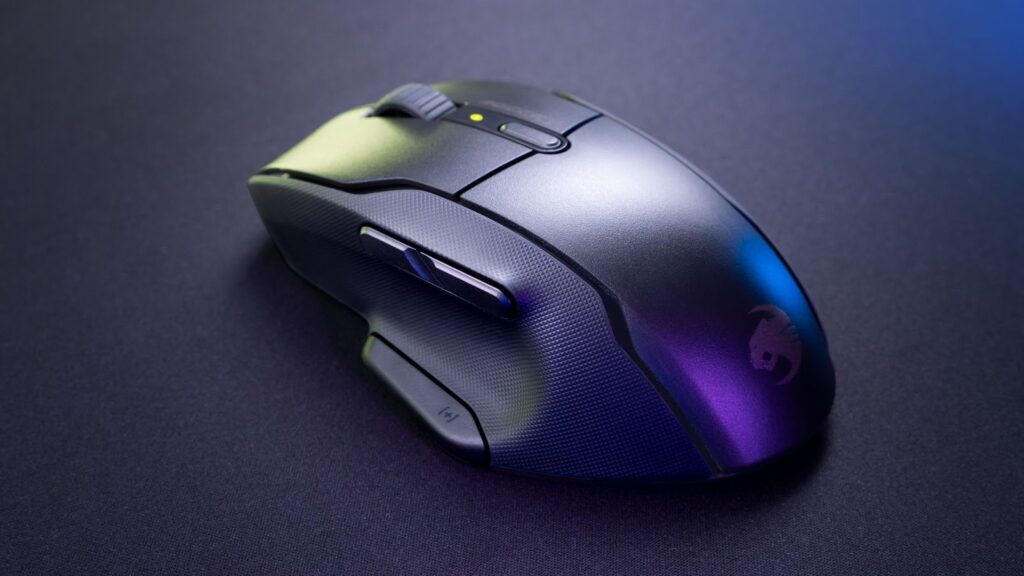 Kone Air är utformad för både nytta och nöje och har ROCCATs ikoniska ergonomiska musform för ultimat komfort, möjlighet att välja mellan laggfri 2,4 GHz-anslutning för spel och Bluetooth för vardagsproduktivitet, samt en otrolig batteritid på över 800 timmar
ROCCAT, Turtle Beach Corporations (Nasdaq: HEAR) prisbelönta speltillbehörstillverkare, presenterade idag den trådlösa ergonomiska gamingmusen Kone Air som det senaste tillskottet i det hyllade musutbudet. Kone Air har ROCCATs förfinade ergonomiska musform och maximal mångsidighet för både nytta och nöja. ROCCATs egna Stellar Wireless-teknik optimerar Kone Airs trådlösa anslutning för perfekt prestanda, däribland laggfri trådlös 2,4 GHz-anslutning för intensivt spelande och Bluetooth® för produktivitet på resande fot och minskad strömförbrukning. PC-spelare kan utrusta Kone Air med två alkaliska AA-batterier med en maximal batteritid på över 800 timmar. Kone Air fungerar även med ett enda AA-batteri, vilket gör musen lättare. ROCCATs trådlösa ergonomiska mus Kone Air finns i svart och arktisk vit och kan förbeställas idag på www.roccat.com och hos deltagande återförsäljare i Sverige. Kone Air lanseras 14 november 2022.
"ROCCATs ergonomiska Kone-musdesign har förfinats till perfektion över åren, och Kone Air är en gamingmus som också är utformad för ökad produktivitet", säger René Korte, grundare av ROCCAT och ansvarig för PC-tillbehör på Turtle Beach. "Kone Airs design med flera knappar är bra både för spel och produktivitet. Det går dessutom att sänka vikten när du spelar, eller bara njuta av formen och känslan och den otroliga batteritiden."
ROCCATs älskade ergonomiska Kone-form ger komfort även under de mest intensiva spelsessionerna. Det känns väldigt bra att lägga handen på Kone Air, med gott om stöd för handleden och tåliga dubbelinjicerade sidogrepp i gummi som känns fantastiska. Designen med flera knappar hjälps av ROCCATs Easy-Shift[+]™–teknik för knappduplicering, som utökar musens nio knappar till 17 programmerbara kommandon och möjliggör enkla makron och handlingar. Håll ner Kone Airs programmerbara Easy-Shift[+]-knapp för att komma åt en arsenal av sekundära funktioner.
Kone Air är full av ROCCAT-teknik som är utformad för att hjälpa spelare göra bästa möjliga insats i spelen. ROCCATs TITAN-brytare samverkar med företagets optiska Owl-Eye-sensor på 19 000 DPI för att göra musen snabb, precis och responsiv.
For more information on the latest ROCCAT PC gaming products and accessories, visit ROCCAT.org and be sure to follow ROCCAT on Twitter, Instagram, Facebook, and YouTube.
About Post Author