Roccat's new wireless Burst Pro Air PC Gaming mouse is now available worldwide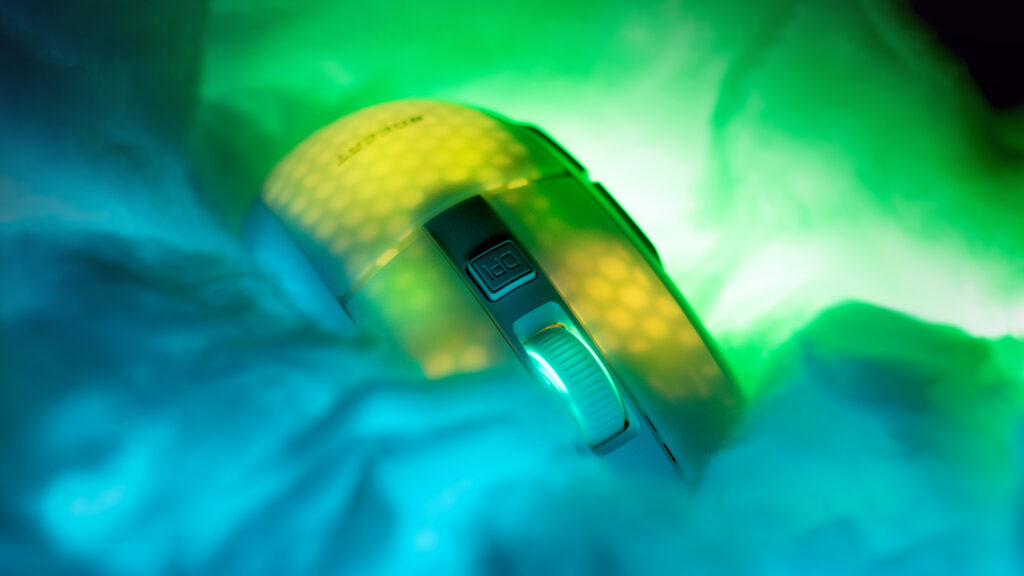 Symmetrical, Wireless, Lightweight, Responsive, Visually Stunning, and Packed with Performance Technologies, ROCCAT's Burst Pro Air PC Gaming Mouse Gives Gamers a Competitive Advantage
ROCCAT, Turtle Beach Corporation's (Nasdaq: HEAR) award-winning PC peripherals brand, today announced the worldwide retail availability of the new Burst Pro Air wireless PC gaming mouse. Symmetrical, wireless, lightweight, and visually stunning with its RGB lighting, the Burst Pro Air is packed with ROCCAT's core performance components and technologies. These innovations include ROCCAT's Stellar Wireless that optimizes wireless signal strength and battery life, the Owl-Eye Optical 19K DPI sensor, and the ridiculously fast and precise Titan Optical Switches.  The Burst Pro Air has a rechargeable battery that delivers up to 100 hours of gaming, and PC gamers can enjoy up to five hours of gaming after a 10-minute rapid charge using the included USB-C cable. The Burst Pro Air's revolutionary transparent Bionic Shell design also returns in the new wireless model, with improved ergonomics and more LEDs than its wired counterpart for an even more immersive RGB lighting experience when using ROCCAT's AIMO intelligent lighting engine. ROCCAT's Burst Pro Air wireless PC gaming mouse is now available at www.roccat.com and participating retailers worldwide for an MSRP of SEK 449.
"A wireless version of our Burst Pro mouse has been one of the most requested products from our community, so we're extremely happy to launch the Burst Pro Air," said René Korte, ROCCAT Founder and General Manager for PC Peripherals at Turtle Beach. "The Burst Pro Air is the perfect wireless mouse for FPS fans, but, of course, the need for wireless products goes beyond gaming and the Burst Pro Air is a great addition to any cable-free setup."
Like the original Burst Pro, the Burst Pro Air features ROCCAT's premium components to deliver unparalleled comfort and performance. Built and designed with speed and responsiveness in mind, the Burst Pro Air is crafted for the high-speed and intense first-person PC games where precision and performance are required. The Burst Pro Air's insanely fast and responsive Titan Optical Switches offer a 0.2ms actuation speed and are twice as fast, and twice as durable as standard mechanical switches, guaranteeing up to 70 million clicks. Additionally, because revolutionary mechanics can only be paired with revolutionary technology, ROCCAT's tailored Owl-Eye optical sensor (based on PAW3370 from PixArt) delivers up to 19K DPI offering unprecedented movement tracking.
The Burst Pro Air's elegant and stylish design features its unique water and dust-resistant Bionic Shell making it lighter than the average wireless mouse. The honeycomb structure of the shell means the Burst Pro Air weighs only 81g while housing four LED zones powered by ROCCAT's intelligent lighting engine AIMO. The Burst Pro Air will synchronize its 16.8 million color flow options with all other AIMO-compatible products offering a unique RGB lighting customization experience.
The Burst Pro Air's wireless connectivity and battery performance are managed by ROCCAT's Stellar Wirelesstechnology, which constantly balances signal strength and battery usage for optimal performance. PC gamers also have the choice between a low-latency gaming-grade 2.4GHz wireless connection or a multi-purpose Bluetooth 5.2 wireless connection. The Burst Pro Air delivers up to 100 hours of wireless performance on a single charge for uninterrupted gameplay. When it's time to charge the Burst Pro Air, the lightweight USB-C PhantomFlex cable feels as close to being "wireless" as possible, and delivers five hours of gaming after just a 10-minute charge. The Burst Pro Air's heat-treated pure PTFE glides are also a game-changer. The additional heat-treatment means the Burst Pro Air comes pre-tuned to deliver incredible glide and smooth mouse movements right out of the box.
Adding to its myriad of features, the Burst Pro Air also supports the NVIDIA Reflex Analyzer. NVIDIA G-SYNC displays with Reflex have the world's first and only system latency analyzer that detects clicks coming from gaming mice and measures the time for the resulting pixels (weapon muzzle flash) to change on the screen. When using ROCCAT's Burst Pro Air mouse in conjunction with an NVIDIA G-SYNC display with Reflex, gamers can measure and improve full peripheral and end-to-end system latency.

For more information on the latest ROCCAT PC gaming products and accessories, visit ROCCAT.com, and be sure to follow ROCCAT on TikTok, Twitter, Instagram, Facebook, and YouTube.
About Post Author