Riot Games introduces HEARTSTEEL: A new virtual band composed of League of Legends champions.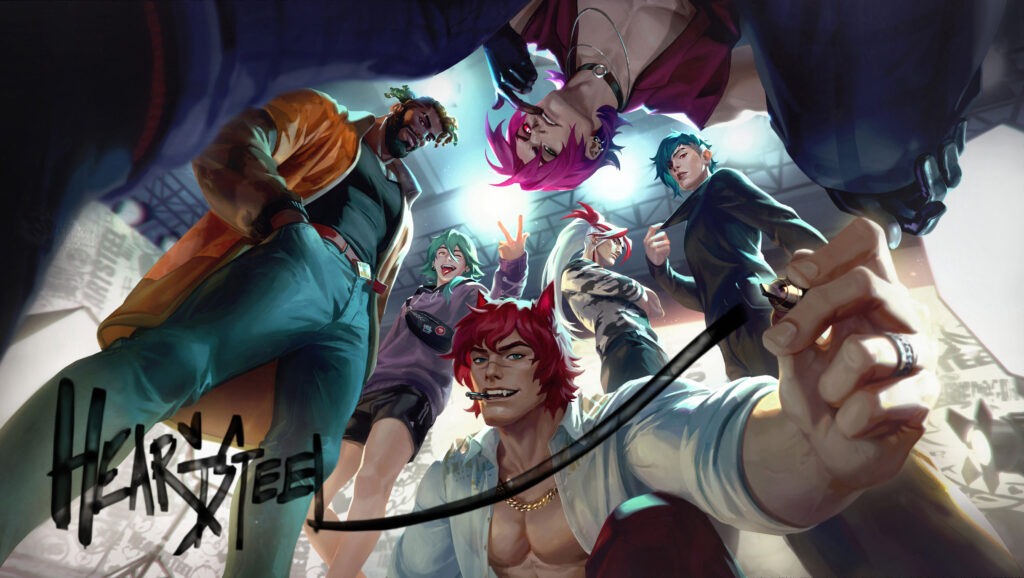 The virtual band HEARTSTEEL, whose music is vocalized by artists Baekhyun, ØZI, Tobi Lou, and Cal Scruby, is releasing its debut single 'PARANOIA' on October 23.
"One of the world's top game developers, Riot Games, introduces the new virtual band HEARTSTEEL. The band is composed of transformed versions of beloved League of Legends champions. In the ensemble, we find Ezreal as the vocalist, Kayn as the rapper and musician, Aphelios as the songwriter and musician, Yone as the producer, K'Sante as the co-leader and vocalist, and Sett as the co-leader and rapper. HEARTSTEEL is the latest addition from Riot Games Music (RGM), known for its prominent role in virtual artistry and its previous successes with favorite acts like K/DA, Pentakill, and True Damage.
HEARTSTEEL is a band of dynamic risk-takers who are passionate about expressing their creativity and uncompromising identity. Their goal is to pave the way for success on their own terms. The group's musical style draws inspiration from modern music collectives and a variety of genres and musical eras, contributing to the band's bold sound and character. The energy and passion that characterize HEARTSTEEL are reflected in their upcoming debut single, 'PARANOIA.'
The song and music video for 'PARANOIA' will be available on YouTube and all major music streaming services starting on Monday, October 23, at 5:00 PM.
"Riot's virtual artists have been some of the most innovative and appreciated music moments for our players," says Maria Egan, Global Head of Music & Events at Riot Games Entertainment. "The idea of an all-male band has long circulated as speculation among our fans, and we are very excited to finally make it a reality. HEARTSTEEL is the result of a successful collaboration between our talented internal creative teams and a group of incredible new artists. HEARTSTEEL is made up of a group of musical souls whose individual power grows stronger together than separately – a philosophy that our community lives by every day through their dedication to our games."
HEARTSTEEL joins the ranks of Riot's highly-ranked virtual artists, whose music spans all genres. Prior to the creation of HEARTSTEEL, RGM launched the record-breaking and global super-pop group K/DA, consisting of League of Legends characters Ahri, Kai'Sa, Evelynn, and Akali. The group's debut single 'POP/STARS' was recently awarded platinum by RIAA, and its music video became the most successful debut video for a K-pop group in YouTube's history with over 560 million views at the time of writing. In addition to this, RGM has launched the heavy metal band Pentakill, which currently has over 460 million monthly listeners on Spotify and over 200 million total streams. RGM has also established a presence in the hip-hop genre through the virtual group True Damage, whose music has reached 165 million streams on various music streaming services. All three groups have performed live at the League of Legends World Championships over the years. All songs from these virtual artists are included in RGM's extensive music catalog, which now contains over 750 songs and has generated over 10 billion plays in total on various streaming platforms.
HEARTSTEEL collaborates with well-known artists from various genres: BAEKHYUN as Ezreal, ØZI as Sett, Tobi Lou as K'Sante, and Cal Scruby as Kayn.
BAEKHYUN is a member of the K-pop group EXO and SuperM and is considered one of the top singers in K-pop. His previous accomplishments include three successful solo mini-albums (City Lights, Delight, and Bambi), as well as several standalone singles and soundtracks. His global popularity is particularly impressive, with nine million-selling records, including both group and solo records.
Cal Scruby is a Los Angeles-based rapper, best known for his clever lyrics and original visuals. His music often touches on topics with sports references and self-deprecating humor. In addition to Riot, he has previously collaborated with major brands such as NFL, EA Sports, and Ciroc Vodka.
ØZI, born in Los Angeles and raised in Taipei, has had a meteoric rise in the Mandarin music world. Through his versatility as a singer, songwriter, music producer, and creative director, he has been awarded multiple accolades. His debut album 'ØZI: The Album' resulted in six nominations at the prestigious Golden Melody Awards, the highest recognition in Mandarin-language music. He was also crowned with the "Best New Artist" award.
Tobi Lou, a multi-talent who has had a significant impact on the contemporary music scene. He was born in Nigeria but grew up in Chicago and has developed a unique musical style that blends elements of hip-hop, R&B, and pop with unforgettable melodies. His breakthrough single, 'BuffBaby,' garnered significant attention and positioned Lou as a talent to watch.
About Post Author