RIOT GAMES CELEBRATES NORDIC TALENT IN HYPE VIDEO FOR LEAGUE OF LEGENDS WORLD CHAMPIONSHIP, THE MOST-WATCHED ESPORTS EVENT GLOBALLY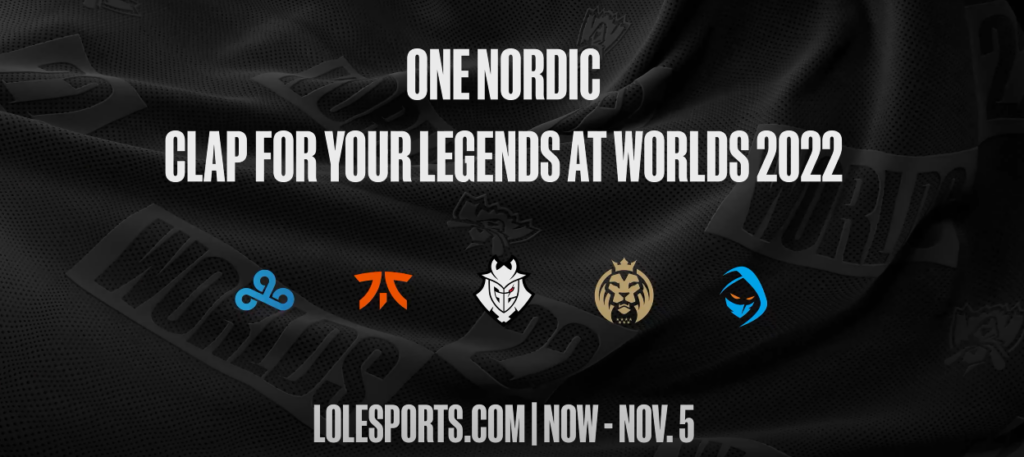 In the 2022 League of Legends World Championship, frequently called Worlds, there are six pro players hailing from the Nordics. To celebrate their achievements, Riot Games made an epic hype video where fans from across the Nordics come together to celebrate them.
The six players, four from Denmark and two from Sweden, are: Rasmus "CaPs" Borregaard Winther from G2 Esports, Martin "Wunder" Nordahl Hansen from Fnatic, Nikolaj "Jensen" Jensen, Jesper "Zven" Svenningsen from Cloud9, Emil "Larssen" Larsson from Rogue and William "UNF0RGIVEN" Nieminen from MAD Lions.
Worlds is the most-watched esports event in the world, with last year's final in Reykjavik boasting over 73 million concurrent viewers at its peak. This year, the tournament takes place in North America, giving Riot Games the perfect opportunity to film the video at Almannagjá in Iceland, a unique valley where the European and North American tectonic plates meet.
Central to the video is the use of the now-iconic "Viking Clap" – first made popular worldwide during the UEFA EURO 2016, as the Icelandic national men's football team outperformed all expectations. From Malmö, Sweden during the 2022 LEC Summer Finals to Nordhordland Folk High School in western Norway, each video has been recorded by supporters in the Nordics.
Worlds is the pinnacle of LoL Esports competition in which the top teams from 11 diverse regions compete for the world champion title. Twenty-four teams from Riot's 11 professional leagues participate in the month-long tournament to crown one team as the best in the world.
The Group Stage is currently underway in New York City and will be closely followed by the Quarterfinal (October 20-23) rounds. Semifinals will be held October 29-30 in Atlanta, with the 2022 Worlds Final taking place on November 5 in San Francisco, featuring an opening ceremony performance by two-time Grammy award-winning artist, Lil Nas X.
Check out match schedules, tournament standings, news and more at https://lolesports.com/
About Post Author