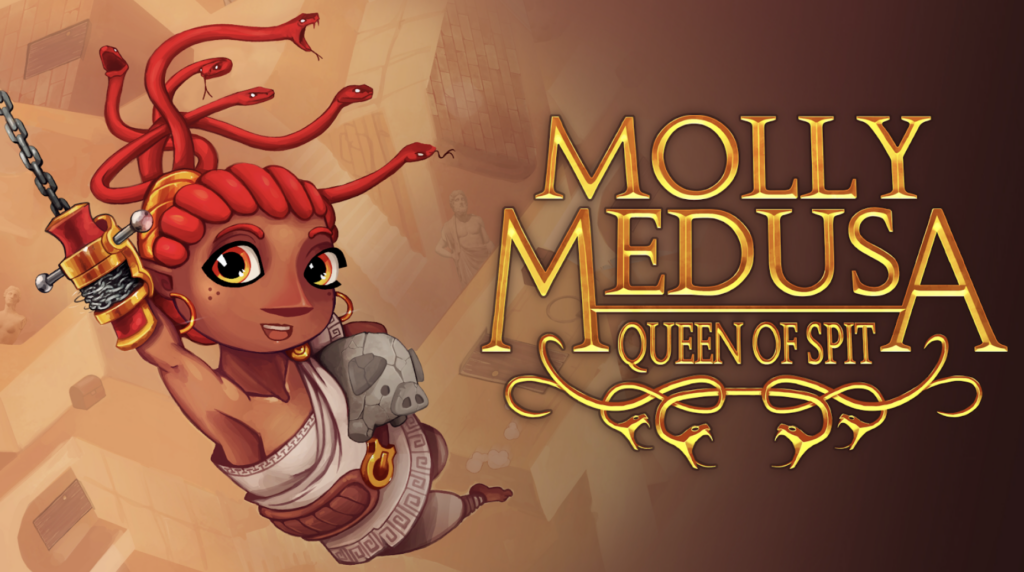 Framstående svensk spelutvecklare avslöjar Molly Medusa: Queen of Spit, ett gravitationssnurrigt 3D-äventyr där alla blir till sten.
Indiespelutvecklare, musiker och debutförfattare Niklas Hallin (Yono and the Celestial Elephants, Nattglim), går ihop med Burning Planet, dvs. Max Malmquist och Karl Rosqvist, som båda har lång bakgrund inom punkrock och metalband (till exempel Danzig, Junk Stars och Michael Monroe). Nu är de redo att avslöja sitt nästa stora projekt.
"Jag är en solospelutvecklare från Göteborg. 2017 släppte jag Yono and the Celestial Elephants, ett Zelda-liknande äventyr om en ung och naiv elefantgud. Nu är det äntligen dags för mitt nästa stora spel, Molly Medusa: Queen of Spit, och den här gången kör vi fullt ut med 3D i alla riktningar!" säger Niklas Hallin.
Stackars Molly! En stenhuggarlärling förhäxad till en ormhårs-medusa – och varenda levande varelse omkring henne förvandlas till sten. Varenda levande varelse! Fiender och vänner, bossar och försäljare, monster och medhjälpare, till och med djur och små insekter, allihop blir sten.
Mollys resa tar henne genom en serie av gåtfulla tempel, medan hon kämpar mot ensamheten och förfrämligandet. Inuti templen är gravitationen relativ. Mollys "neråt" beräknas från ytan som hon står på för tillfället, vilket innebär att hon kan traska upp för väggar utan svårighet, eller promenera uppochner i taket. Arkitekturen knörvlar sig till krumelurer, och vrider sig till kanelbullelabyrinter bortom all logik. Förstenade fiender och gravitationspussel sammanförs till en färgsprakande skattjakt i denna M. C. Escher-värld.
Molly Medusa släpps på Nintendo Switch under våren 2023.
Följ för uppdateringar i framtiden: Niklas Hallin på Twitter: @HallinNiklas och www.burningplanet.se
Om Burning Planet
Molly Medusas hårdrockssoundtrack kommer från Burning Planet. Vad som ursprungligen var "Burning Planet Music", ett musikproduktionsbolag för tv-spel, har nu utvecklats till en in-your-face, punkrock game publisher – "Burning Planet Digital". Som publisher arbetar vi med ett indiespel som om det vore ett band.
About Post Author