Crowdfunding Campaign for The Witcher: Path of Destiny Is Now Underway!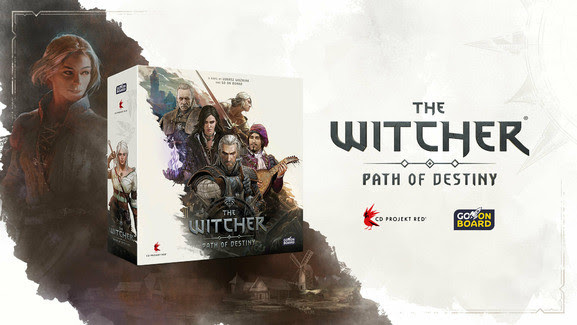 Starting today, board and card game enthusiasts worldwide can join in the crowdfunding campaign for The Witcher: Path of Destiny — Go On Board's latest title set in The Witcher universe, created in close collaboration with CD PROJEKT RED. Details of the campaign and the chance to opt in are available via The Witcher: Path of Destiny game page on Gamefound.
Snapshot:
The Witcher: Path of Destiny is a new board game from Go On Board being created in collaboration with CD PROJEKT RED.
Gameplay combines board game and card game mechanics with rich storytelling of The Witcher and The Witcher series of games.
Players (1-5) embody iconic Witcher-world characters and retell key events from around the Continent while influencing their outcomes.
Go On Board's crowdfunding campaign for Path of Destiny is now live on Gamefound.
The Witcher: Path of Destiny is a brand new board game from Go On Board, creators of The Witcher: Old World and other games. Tailored for 1-5 players, the title will see participants take control of some of the greatest heroes from The Witcher series of games — including Geralt, Ciri, Yennefer, Vesemir, and Dandelion — and relive iconic stories from all around the Continent, with a twist! As players engage in board- and card-based gameplay, they may choose to make different choices and diverge from the original path to explore various "what-ifs". Combining immersive storytelling in a rich and dark fantasy world with easy-to-learn yet deep mechanics that integrate tableau-building, hand management, and strategic thinking, Path of Destiny will offer a wholly new experience within the The Witcher franchise.

"With The Witcher: Old World, the Go On Board team proved that they not only know what makes The Witcher world tick, but also how to adapt the setting perfectly into a unique and engaging board game experience that wholeheartedly embraces its source material," said Jan Rosner, VP of Business Development, CD PROJEKT RED. "Our next joint project, Path of Destiny, will be just as unique, if not more so, by letting players interact with the world of The Witcher like never before, with choices having consequences that can lead well known stories toward thrilling new conclusions. Exploring these possibilities is a lot of fun, regardless of board game experience or knowledge of The Witcher universe. I can't wait for you to check it out — do let us know what you think!"

Participation in the project's Gamefound campaign is open to anyone wishing to contribute. The Go On Board team has prepared a variety of options for pledging support, as well as numerous stretch goals — when unlocked, they will influence the game's content. Several pledge options also entail receiving the game prior to its retail release in either a standard or deluxe variant, with the latter including all content featured in the standard edition, as well as everything unlocked during the crowdfunding campaign and exclusive deluxe edition goodies.

Go On Board and CD PROJEKT RED's prior collaboration has seen The Witcher: Old World funded in record time, raising a total of €8.5M and becoming one of the most successful crowdfunding campaigns for a board game ever. Following the campaign, the game was released in retail worldwide in 17 language versions, selling 150K copies of the base game and nearly double that including the game's expansions.
For more information regarding The Witcher: Path of Destiny, visit the game's official website. Details regarding the crowdfunding campaign are available on Path of Destiny's page on Gamefound.
About Post Author