Call of Duty: Modern Warfare III PC Trailer, Specs, and Preloading Info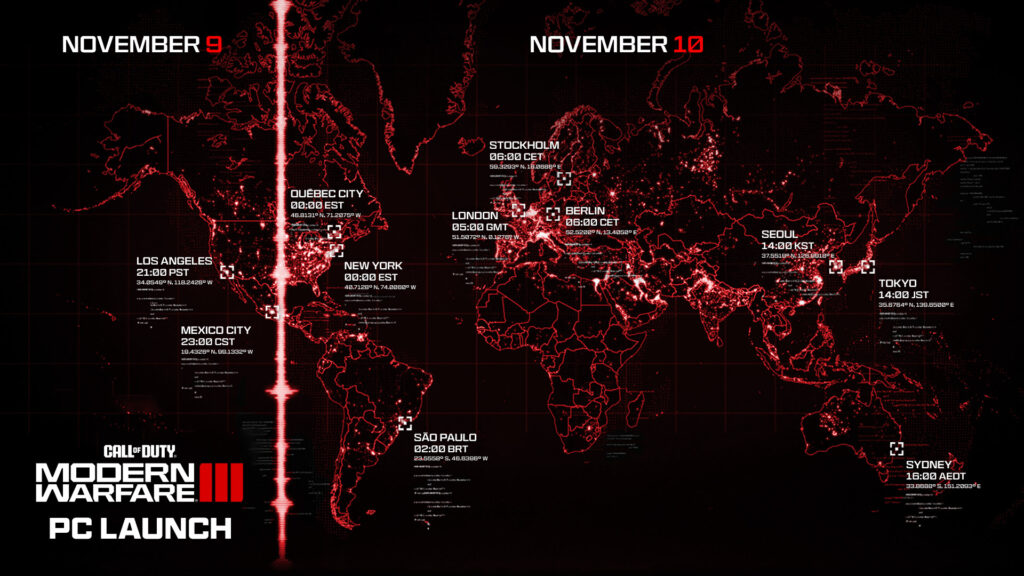 As Call of Duty PC lead developer Beenox fine-tunes the PC version of Modern Warfare III in preparation for launch, ready yourself for details on NVIDIA game integration, preloading times, file sizes, specs for Minimum, Recommended, Competitive, and Ultra 4K performance, and more.
The upcoming release of Call of Duty: Modern Warfare III is quickly approaching its November 10 PC launch date on Battle.net and Steam. In partnership with Sledgehammer Games, Call of Duty PC lead developer Beenox has ensured players have over 500 customization options at their fingertips, with 4K graphics and Ultrawide support, and a massive array of options across all manner of settings. 
Get the Ultimate PC Modern Warfare III Experience with Performance Multiplying DLSS 3
DLSS 3 is a breakthrough in AI-powered graphics that boosts performance while maintaining great image quality and responsiveness. Building upon DLSS Super Resolution, DLSS 3 adds Frame Generation for GeForce RTX 40 Series GPUs to create additional high quality frames and integrates NVIDIA Reflex low-latency technology for optimal responsiveness. When you play with other GeForce RTX GPUs, you can activate DLSS Super Resolution to accelerate your frame rates and enhance your Modern Warfare III experience. There are a couple of additional graphical presets for PC players to look for, and check out, as you adjust the visual quality that's right for you.
NVIDIA Reflex – Best PC Responsiveness
NVIDIA Reflex revolutionizes low-latency gaming, giving Modern Warfare III PC gamers the ultimate experience with incredible responsiveness. Pinpoint accuracy and timing are key to overcoming Modern Warfare III'smost intense gunfights and missions; NVIDIA Reflex reduces system latency, making gameplay smooth and more responsive, delivering the reaction time needed to compete at the highest levels.
For more information about the PC version of Modern Warfare III, check out the blog post here and the PC trailer here.
Official PC System Requirements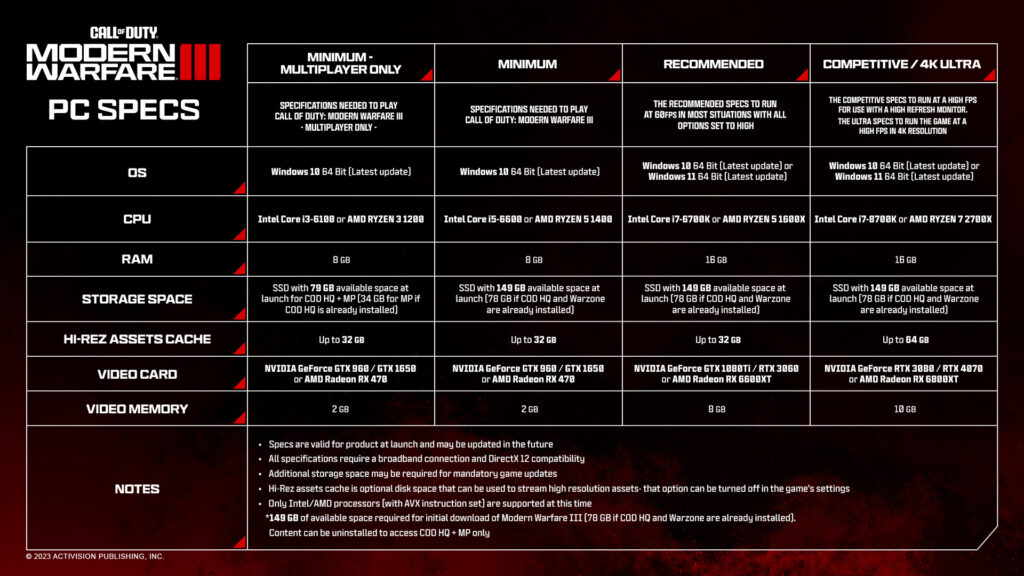 Minimum
OS: Windows 10 64 Bit (latest update)†
CPU: Intel Core i5-6600 or AMD Ryzen 5 1400
RAM: 8 GB
Hi-Rez Assets Cache: Up to 32 GB
Video Card: NVIDIA GeForce GTX 960 / GTX 1650 or AMD Radeon RX 470
Video Memory: 2 GB
Storage: SSD with 149GB available space (78GB if COD HQ and Warzone are already installed)
Recommended
OS: Windows 10 64 Bit (latest update) or Windows 11 64 Bit (latest update)†
CPU: Intel Core i7-6700K or AMD Ryzen 5 1600X
RAM: 16 GB
Hi-Rez Assets Cache: Up to 32 GB
Video Card: NVIDIA GeForce GTX 1080Ti / RTX 3060 or AMD Radeon RX 6600XT
Video Memory: 8 GB
Storage: SSD with 149GB available space (78GB if COD HQ and Warzone are already installed)
Competitive / Ultra 4K Specifications
OS: Windows 10 64 Bit (latest update) or Windows 11 64 Bit (latest update)†
CPU: Intel Core i7-8700K or AMD Ryzen 7 2700X
RAM: 16 GB
Hi-Rez Assets Cache: Up to 64 GB
Video Card: NVIDIA GeForce RTX 3080 / RTX 4070 or AMD Radeon RX 6800XT
Video Memory: 10 GB
Storage: SSD with 149GB available space (78GB if COD HQ and Warzone are already installed)
Required for all specs:
Network: Broadband Internet connection
Sound Card: DirectX compatible
Recommended Drivers for NVIDIA/AMD
NVIDIA: 537.58
AMD: 23.10.2
About Post Author