Teamfight Tactics: Fortune's Favour and Lunar Gala Overview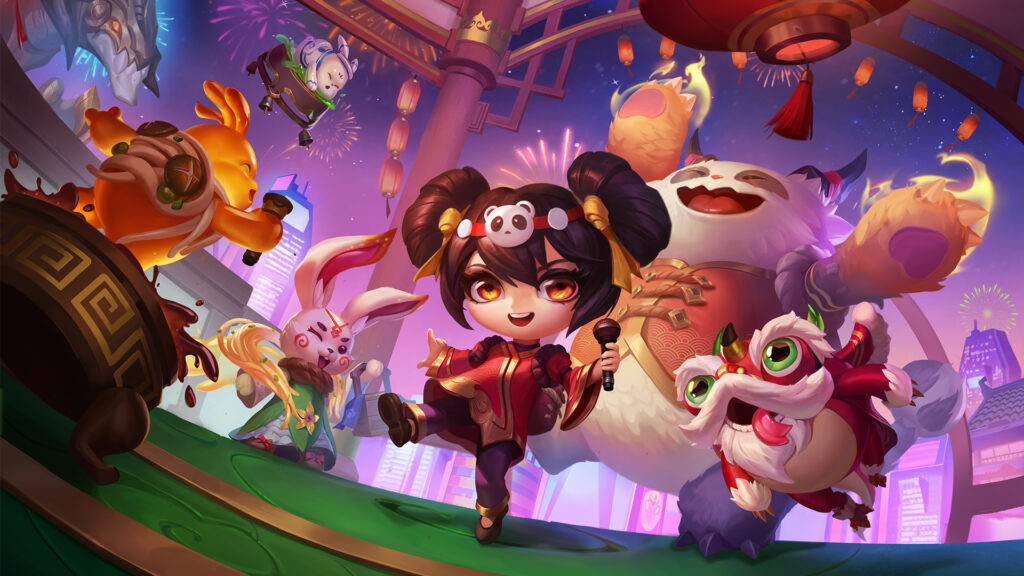 A new game mode, event, and cosmetics, all become available on January 12th at 11 AM (PT) just after patch 13.1 to welcome in the new year in Lunar Gala style. You'll have until February 9th, the start of patch 13.3, to help Chibi Panda Annie launch her Lunar Gala, build the most overpowered team comp ever in Fortune's Favor, and claim (or gift) our event exclusive Tacticians and Arena.
Lunar Gala Event
The Lunar Gala is an interactive hub where you'll help Chibi Panda Annie prepare for a party at the House of the Golden Rabbit—but the notorious party-pooper, Aurelion Sol, won't make it easy for you. Win Aurelion Sol over through the power of friendship, or give him the cold shoulder in hopes that he rage quits the party by completing 15 missions that'll reward you with a grand total of 1 Emote, 1600 Pass XP, 100 Star Shards, and 1 Egg that contains any of our Lunar Revel themed Little Legends.
Friend or foe, be sure to deal with the party-crashing Aurelion Sol, help Lion Dance Poggles live their dancing dreams, play party games with Delicious Bun Bun, and so much more by completing missions (and earning freebies) before patch 13.3 rolls around.
Fortune's Favor
With the Lunar Gala event comes TFT's first temporary game mode, Fortune's Favor. Fortune's Favor is like playing TFT, except every board is a YouTube clickbait comp—you'll never believe the power of the boards you can create until you actually create them. And here's how you'll create them.
The first shared carousel (draft) will offer either all 5-cost champions or all 4-cost champions, allowing you to start your comp off with an immediate carry opportunity. But the real high roll comes from the Golden Bun Bun, who will drop loot orbs every stage (starting with 3 orbs at stage 1, and building up to 7 orbs by the time you hit stage 5).
Loot orbs can drop things like Ornn (Forge) Items, Tactician's Crown, Item Removers, Gold, Training Dummies, Tome of Traits, Champions, and more!
While the Loot orbs will vary in power from game to game and stage to stage, all players will be given the same power level of loot orbs for each offering. That way all players will be on a relatively even (ridiculously overpowered) playing field.
With all this fortune going around, someone's gotta have a bit of misfortune—that's where Golden Bun Bun comes in with another gift, just for you—and the seven other players in the game. After first dropping below 50 Tactician Health, the Golden Bun Bun will hop on your board to gift you a Golden Orb which will contain some serious loot to boot, and not a hare too late!
Speaking of too late, be sure to make your super-powered, ultra, mega, amazing Monsters Attack! team comp in Fortune's Favor before patch 13.3, as it'll leave alongside our event, and event-exclusive cosmetic content.

Continuing the Celebrations with New Cosmetics
What better way to celebrate the new year, a new game mode, and an interactive HUB, than playing as the stars of the show game at the scene of the party!
House of the Golden Rabbit
In Spatulopolis, you can't call your digs an urban penthouse suite unless it boasts tranquil ponds, two lounges, and a battle arena at the center. The House of the Golden Rabbit is available via Penthouse Party Boxes via bundles or individually for 390 RP. The exclusive arena has a drop rate of 2% with a guarantee of opening it at the 61st box. Boxes without the House of the Golden Rabbit arena have a chance at another Mythic Little Legend, Lion Dancer Poggles (5% drop rate), or Bun Bun variants, Lunar Gala variants of Bun Bun, Melisma, or Gloop, or previously released Lunar Revel Little Legends.
As the setting of the Lunar Gala, you'll be able to launch fireworks, interact with enormous hologram critters, and have an intro ceremony that invites the whole Convergence to a party worth celebrating!
Chibi Panda Annie and Chibi Annie
Available as a rare (2%) drop from the Riches of the Rabbit, Chibi Panda Annie has victory (and the entirety of Spatulopolis) in sight from the the top of her penthouse suite. All Riches of the Rabbit without Chibi Panda Annie will contain Bun Bun variants, Lunar Gala variants of Bun Bun, Melisma, and Gloop, or previously released Lunar Revel Little Legends.
Alongside her best stuffed friend, Panda Choncc, Chibi Panda Annie delivers an unforgettable present to her foe upon elimination.
That finisher is equal parts adorable and unnerving.
If dropping Panda Choncc on your foe's face is just too much to handle, you can throw Tibbers instead with Chibi Annie's custom boom, Summon Tibbers! Chibi Annie is available for direct purchase for 1900 RP.
While the special Lunar Gala themed cosmetics will only be available until the end of the event, Chibi Annie, like all base Chibis, can be directly purchased from the store indefinitely.
Lion Dancer Poggles
Complete with new festive firework animations, bountiful upchucks of gold, and lovable thoughtless goofiness, Lion Dancer Poggles is our newest Mythic Little Legend… both a star in the Lunar Gala event and in our hearts.
You can give Lion Dancer Poggles a home in your heart and your arena by purchasing Penthouse Party Boxes (390 RP) with a 5% drop rate.
Bun Bun Enters the Convergence!
For Bun Bun, every year is the year of the rabbit. Bun Bun hops with their best paw forward, embodying perfection at every turn, every ear flick, and every selfie. They are a little self-obsessed, but you would be too if you were as perfect as them—for what it's worth, I'm sure you come close.
You can pick up any of their variants for 925 RP (Epics) or 750 RP (Rare). Check out the variants below: Bun Bun, Chubby Choco Bun Bun, Bunana Bun Bun, Battle Bunny Bun Bun (Epic), Space Groove Bun Bun (Epic), Red Riding Bun Bun (Legendary).
You can also join Bun Bun at the Lunar Gala for 925 RP. Check out their Epic rarity Lunar Gala variants below: Lunar Revel Bun Bun, Porcelain Bun Bun, Red Hare Bun Bun, Lotus Bun Bun, Delicious Bun Bun.
Gloop and Melisma Join the Lunar Gala!
No Lunar Gala is complete without a VIP list of attendees, which is why Melisma is here with beats in tow. As for Gloop, it looks like they were mistaken for one of the many courses of the Lunar Gala menu.
You can pick up any of Melisma's Lunar Gala variants for 925 RP. Check out the variants below: Lotus Dancer Melisma, Porcelain Melisma, Festive Fire Melisma, Heavenly Jade Melisma, Lucky Rabbit Melisma.
As for Gloop, you can serve your foes defeat and your board something to eat with the following 925 RP Lunar Gala variants below: Peachy Gloop, Shrimpy Gloop, Hearty Soup Gloop, Porcelain Gloop, Golden Custard Gloop.
As a reminder, Gloop is not food. Also as a reminder, all the Lunar Gala Little Legends (Bun Bun, Gloop, and Melisma) have a chance at being unlocked in both the Penthouse Party Boxes (390 RP) and the Riches of the Rabbit (390 RP).
---
And that's all you need to know about the event, the mode, and the cosmetics launching with patch 13.1. On behalf of everyone on TFT, have a wonderful New Year!
About Post Author