Let's go places with portable projectors!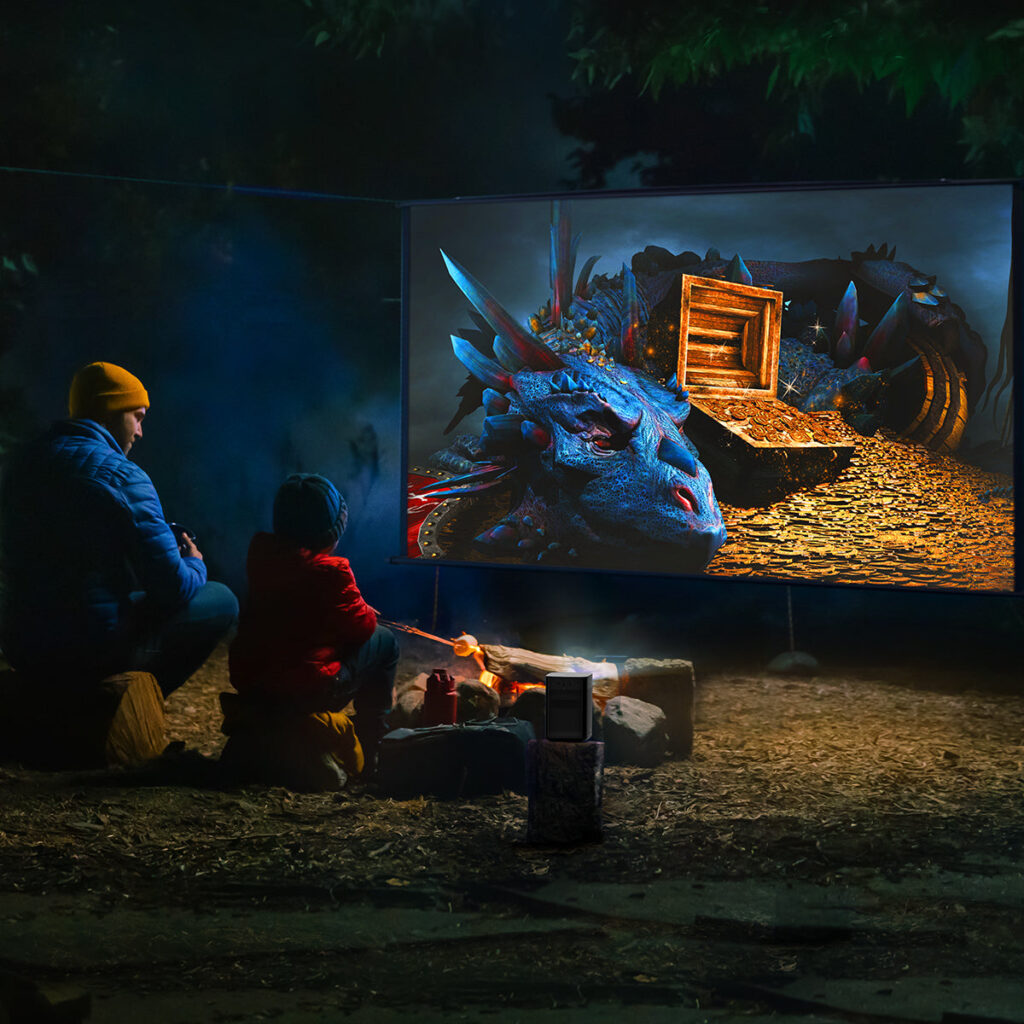 Take a movie theater with you for hikes, road trips & backyards
Summer is approaching slowly but steadily and soon we can spend more time outdoors without all that heavy clothing. Why not plan something different for this summer and pick up a portable projector to create unforgettable memories? Projectors are easy to use and have smart features for their price. Choosing the best portable projector is in fact easier than you would think, all you need to do is pay attention to the projector's main characteristics such as brightness, battery, weight, and size for the transport. Almost all projectors connect with smartphones and other devices using the MHL protocol, and they have USB ports for easy connection to external equipment.
Portable projectors will be an ideal solution for those who love outdoor activities. You can watch your favorite movie and enjoy quality music outdoors and the projector's compact design allows you to simply transport it to any place.
What in fact are portable projectors?
Portable projectors are portable high-quality, convenient, and flexible all-in-one solutions. The best portable projectors have built-in batteries and weigh up to only 1-2 kg. You can take these projectors with you on a road trip, camping, or business/hobby meeting with ease. Some outdoor projectors may not have good built-in speakers, so external speakers may be needed. However, XGIMI outdoor projectors are equipped with Harman Kardon speakers that provide great sound quality and thus external speakers are not needed.
Product recommendations for choosing an portable projector
You might want to consider portable projectors if you plan to go outdoors, for example camping, and watch a movie. Maybe you need a projector for meetings to show your project on screen, or you just want a projector for watching movies or series at home.
XGIMI Halo and XGIMI Halo+
For backyard theater and late-night movie lovers, it's important to have a quality picture and good sound to enjoy watching your favorite movie. The ideal choice for road trips would be the XGIMI Halo and XGIMI Halo+ portable projector with 800 ANSI lumens of brightness – producing quite a clear image. The 4K Ultra HD projector has an HDR mode, so the picture features maximum contrast and detail. The Halo+ weighs 1.6 kg, light and compact enough to fit in your backpack. Moreover, its built-in battery has a capacity to give you big-screen entertainment anywhere, anytime. The Halo+ also has a power-saving mode that darkens the image but increases the display time with autofocus being another significant feature. For those who desire the variety of features with lesser money, the XGIMI Halo model is a great option. It offers an immersive viewing experience with official Android TV OS and built-in chromecast. By using simple voice commands, you can easily cast for example smartphone apps, games and music directly to Halo.
XGIMI MoGo Pro and XGIMI MoGo Pro+
For camping fans who value the projector's compact size, the XGIMI MoGo Pro and XGIMI MoGo Pro+ will be the best affordable projectors for outdoor activities. Both models weigh an incredible 0.9 kg and have a size of 146*105.5*94 mm so they don't take up much space and can easily be placed in a bag. The XGIMI MoGo Pro+ is great for traveling and hiking due to its compact size, built-in battery and lightweight. It has an Android TV 10 system, which allows you to run almost all media files. The light output of this model is 900 ANSI lumens, which will give you a quality presentation image in any environment. The XGIMI MoGo Pro is great for watching a movie in the backyard.
Learn more about XGIMI's projectors on their official website.
About Post Author